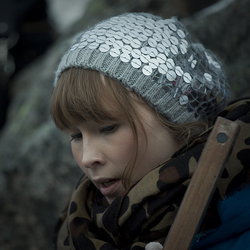 Marja Bål Nango
Last weekend in Seattle the Nordic Lights Film Festival showed a great array of films from the Nordic countries. My friend Julie Whitehorn has posted detailed reviews of four Sami shorts on her blog Seattle Sami.
All were fascinating in their different ways, and it was encouraging to see that three of them were student films made by

Marja Bål Nango, a young Sami filmmaker. In reading about her afterwards I

saw that she's been getting a good deal of attention in Norway and in Sapmi for her work. You can read more about her here. I also read that she's doing a residency at the former home of the great poet, joiker, and multi-media artist Nils-Aslak Valkeapää. Read more about him and his foundation here.
I'm reminded that Skabmagovat, the extraordinary Sami and indigenous people's film festival in Inari, Finland, is just ending today. Their focus this year, the 16th winter it's taken place, was Arctic people's films.
As described in the program's introduction by artistic director Jorma Lehtola:
For the indigenous peoples of the Arctic, film has become an important tool both in strengthening the identity and communicating with other peoples. The circumstances of production and the resources available vary, but the field keeps expanding. Therefore, Skábmagovat wants to have a broader look at the area.

Our special theme of the Arctic peoples covers Chukchi nomadism from the eastern corner of Russia, Inupiat drama in a Berlinare-awarded film from Alaska, the wisdom
of Inuit women from Nunavut, terror narration from Greenland, as well as Sámi stories on reindeer, bear men and mining.
I attended this film festival in 2002, in its early days, and wrote about Jorma Lehtola and the festival in The Palace of the Snow Queen. I always meant to go back, but it's not easy getting up to Inari every year. I remember the experience of sitting outside watching films projected on an icy screen in temperatures of minus 20 c. That year the focus was, as always, Sami films, and those made by filmmakers from the Brazilian Amazon. I recall how much I learned in just three days about worlds that would have otherwise been closed to me. Such is the amazing power of film.